When it comes to buying a perfect refrigerator for an Indian house 2023 brands like Samsung, Whirlpool, LG, Haier are the best sellers and the top choices of almost every Indian customer.
These top brands of refrigerators in India offer the latest technology, unbeatable price ranges, and innovative designs while delivering optimum performance.
INTERESTING FACT: Making ice cubes at home was revolutionary back in the 1920s which led other fridge makers to do outlandish things to stand out. In 1937, one company sold a refrigerator with a radio built-in.
Here are Our top picks for you in each of these brands:
Still standing on #1, LG's refrigerator enhances your kitchen with its innovative range of refrigerators and fridges.
Wanna keep your fruits fresher for longer ?, discover LG's line of refrigerators !. Whether it is an elegant french door series or side by side line of fridges, have the option to pick and choose whatever suits you and your family's lifestyle.
Let it be bigger storage, better energy efficiency or simply having better access to all your favorite snacks, LG has an innovatively-designed solution for you.
Key Technologies Used:
Inverter Linear Compressor – Makes refrigerator energy efficient saving up to 51% of electricity consumed, comes with a 10-year warranty.
Door Cooling – Cools refrigerator 35% faster than conventional cooling.
LED Display – LED lights are economical and more energy efficient having a longer life span.
Multi Air Flow – Cools edibles by circulating and distributing air throughout the refrigerator.
Smart Thin – Manage and control your refrigerator from your phone even when you are not home. Set refrigerator temperature, control Express Freeze.
Smart Diagnosis – Use your smartphone to troubleshoot issues, simply call LG Customer Service Helpline and place the phone on the appliance. The appliance then communicates with a computer that produces a diagnosis within seconds and provides an immediate solution.
Auto Smart Connect – Automatically connects refrigerator with home inverter and when the power goes off, it takes up the power of the inverter itself.
Moist 'N' Fresh – keeps the moisture at an optimum level.
My best pick: Increasing Order Of Capacity
LG 190 L 4 Star Direct Cool Single Door Refrigerator(GL-D201ASPX.ASPZEBN, Scarlet Plumeria, Base Stand with Drawer, Smart Inverter Compressor)
LG 260 L 4 Star Frost Free Double Door Refrigerator(GL-I292RPZL.APZZEBN, Shiny Steel, Inverter Compressor)
LG 420 L 4 Star Frost Free Double Door Refrigerator(GL-I472QPZX.DPZZEBN, Shiny Steel, Inverter Compressor)
LG 687 L Frost Free Side-by-Side Refrigerator(GC-B247SLUV.APZQEBN, Platinum Silver, Inverter Compressor)
Samsung refrigerators ensure sustainability, support local level communities and deliver more than just a fridge.
Their innovative technology and features will impress you at first glance with their eco-friendly range of fridges maintaining their goal of reduction in greenhouse gas at the global level.
The family hub refrigerator is not only equipped with the latest technology but also serves as an entertainment unit with a built-in TV monitor screen.
Technologies Used:
Fresh Cooling – The cooling system supplies fresh air to each compartment of the refrigerator to keep food fresh for a longer period. Also, does not allow the mixing of food smells.
Digital inverter compressor – This technology makes precise cooling, it senses temperature changes and accordingly adjusts the compressor speed, reducing energy wastage.
Stabilizer Free – Stable operation means it will work steadily preventing electrical damage if there are any fluctuations in voltage. Cuts power automatically if the voltage level rises above the recommended 300volts.
Converter Freezer – 88 liters more storage when in convertible mode.
Movable Ice maker – Simple twist is all you need to get ice cubes whenever needed. It is also movable if you do not need ice making space.
My Best Picks: Increasing Order Of Capacity
Samsung 192L 2 Star Direct Cool Single Door Refrigerator(RR19N1Y12RZ/HL / RR19R2Y12RZ/NL, Tender Lily Red)
Samsung212 L 3 Star Direct Cool Single Door Refrigerator(RR22M272ZS8, Elegant Inox, Inverter Compressor)
Samsung 253 L 4 Star Frost Free Double Door Refrigerator(RT28M3424S8/HL, Elegant Inox, Inverter Compressor)
Samsung324 L 3 Star Inverter Frost Free Double Door Refrigerator(RT34M5538S8/HL, Elegant Inox, Convertible)
An Indian customer's basic requirement is for a refrigerator that consumes less electricity, is spacious while it keeps food fresh and perfect for consumption for a longer period – whether it is vegetables and fruits or desserts.
Whirlpool range of refrigerator is your best companion for such needs and a larger life span. Keeps your milk fresh for up to 12 hours after a power cut.
Key Technologies Used:
6th sense Intelli-frost technology – New range of whirlpool refrigerators have this technology embedded to give 4x precise cooling.
Auto Defrost Technology – Intelligently cools the temperature which melts the ice concentration in the freezer so no manual defrosting(ice removal from the freezer) is needed.
Plasma inverter Technology – Compressor lifetime value of 25 years is reliable as certified by VDE Germany.
Auto Connect home inverter – When the light is off for a longer time as it is in some remote parts of India, it connects to inverter automatically thus maintaining the longer freshness of food items.
Advanced Insulated capillary technology – Fast ice making and fast water cooling so you are never short on ice.
My Best Picks: Increasing Order Of Capacity
Whirlpool 190 L 3 Star Direct Cool Single Door Refrigerator(WDE 205 CLS 3S BLUE-E, Blue) (BEST SELLER)
Whirlpools 240 L Frost Free Multi-Door Refrigerator(FP 263D Protton Roy, Alpha Steel)
Whirlpool 245 L 2 Star Frost Free Double Door Refrigerator(Neo FR258 CLS Plus, Galaxy Steel)
Haier is headquartered in New Delhi providing the best support for its customers by keeping day to day customer's needs in mind, Haier produces products that are transforming their everyday lives into inspired living just like its motto says.
Technologies Used:
1 HIT – 1-hour icing technology freezes water into ice faster. It producing fine crystal ice cubes in 1 hour only.
Top LED – Bright lighting consumes less energy.
Dual Humidity Zone – Available in french door range of Haier refrigerator has larger storage capacity.
Stabilizer Free operation – Heavy-duty compressors make certain that you do not spend a single penny in buying a separate stabilizer. It ranges from 135-290 volts.
My Best Picks: Increasing Order Of Capacity
Haier 52 L 3 Star Direct Cool Single Door Refrigerator(HR-62VS, Silver)
Haier195 L 4 Star Direct Cool Single Door Refrigerator(HED-20FDS, Brushed silver/Dazzle Steel)
Haier320 L 3 Star Frost Free Double Door Refrigerator(HRB-3404BS-R/HRB-3404BS-E, Brushline silver, Bottom Freezer)
Haier345 L 3 Star Frost Free Double Door Refrigerator(HRB-3654PSS, Shiny Steel, Bottom Freezer)
Only Indian company in the Indian market facing tough competition from multinational companies in the field of home appliances.
History traces back to the swadeshi movement is committed to producing products to make greener India by 2020.
It is rated #1 in after-sale service in India. Unlike other brands that claim to be supportive but actually back down soon products are sold off.
Technologies Used:
Variable Speed Compressor – Adjusts speed as per the refrigerator operation.
Home Inverter – Runs on home inverter when power goes off with low power consumption.
Thickest insulation – It ensures best class cooling retention, more energy efficiency, and less food spoilage.
Air Flow Technology – Toughened glass shelves provide more strength and cool air flows throughout the fridge to keep food items fresh.
Anti Bee technology – Silver ions in the air duct keep food fresh and free from germs.
My Best Picks: Increasing Order Of Capacity
Godrej's 99L 1 Star Direct Cool Single Door Refrigerator (RD CHAMP 114 WRF 1.2 WIN RED, Wine Red)
Godrej190 L 3 Star Direct-Cool Single-Door Refrigerator (RD 1903 EW 3.2, Royal Blue)
Godrej 210 L 5 Star Direct Cool Single Door Refrigerator(R D EPro 225 TDI 5.2 PRL PRP, Pearl Purple, Base Stand with Drawer, Inverter Compressor)
Godrej236 L 2 Star Frost Free Double Door Refrigerator(RF GF 2362PTH Scr Drmn, Scarlet Dremin)
7 Best Picks of Refrigerator 2023(top trending best sellers in the online market)
Whirlpool 190 L Direct Cool Single Door 3 Star Refrigerator (Solid Blue, WDE 205 CLS 3S Blue - E)

Samsung 192 L Direct Cool Single Door 5 Star Refrigerator with Base Drawer (Saffron Blue, RR20R182XU8/HL)
Samsung 253 L Frost Free Double Door 4 Star Refrigerator (Elegant Inox, RT28M3424S8/HL)

Haier 320 L Frost Free Double Door Bottom Mount 3 Star Refrigerator (Brushline Silver, HRB-3404BS-R/E)

Samsung 324 L Frost Free Double Door 3 Star Convertible Refrigerator (Elegant Inox, RT34M5538S8/HL)

Whirlpool 240 L Frost Free Triple Door Refrigerator (Alpha Steel, FP 263D PROTON ROY (N))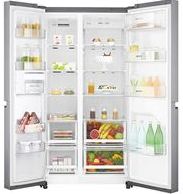 LG 687 L Frost Free Side by Side Refrigerator (Shiny Steel/Platinum Silver3, GC-B247SLUV)
Check Out: Ultimate Buying Guide For Refrigerator - What To Consider Before Buying Any Refrigerator