Want to have some healthy drinks and make your food flavored? Then you should use a mixer grinder or a food processor. They both are kitchen appliance which is used to grind spices, Meat, and vegetables, making a dough, blending, chopping, making drinks and purees, etc. Both have blades that cut the food and vegetables into fine pieces and are so convenient to use and operates with electricity. They come with different sizes of jars which you can use as per your need.
What Is Mixer Grinder?
A mixer is used to mix ingredients and make smooth pastes. Generally, we use it to make smoothies, pastes, and batters.
On the other hand, a mixer grinder is a combination of two function mixers and grinders. It has two jars one small and one big and is used to grind the ingredients very finely. It can make both wet and dry substances into powdered form like spices, pulses, sugar, coffee beans, etc. There you find a number of jars which you can use according to the need but it will be a little bit expensive.
Usually, a mixer grinder comes with two jars, rubber lids, etc. one more function is there, you can control the speed of the mixer grinder. For example- if you have to make puree and smoothies or batter then you can keep the speed of the motor on normal mode, but if you want to grind pulses and spices then make it run faster.
In India, mixer grinders offer a speed of approx. 10,000 revolutions per minute. There is one more thing to note down that you should opt for a mixer grinder which has 750-watt motor because it is an ideal, not so powerful and not very low. It is suitable for both big and small families.
What Is The Food Processor?
Food Processor is a multiuse kitchen appliance. Unlike mixer grinders, we don't need different appliances for different purposes. Example – juicer is used to get fresh juice from the fruits and vegetables, grinders to grind spices and meat. The food processor meets all the cooking needs. You can use it for grinding, chopping, grating, blending, etc.
The food processor has changeable blades and disks which makes it a multipurpose appliance. It comes with different sizes of jars and "S Blades" which are used for chopping vegetables. It also consists of a pusher to push the food into the bowl or jar.
Which One Is Best?
If you love cooking and fond of making new dishes then you must go for a Food processor. There are so many tasks like chopping, blending, making the puree, slicing, and grinding to prepare a dish. If you do all these tasks manually then they will be so time-consuming and very tedious. So, to save your time and energy you should buy it.
The mixer grinder comes with two-three jars which can be used for juicing and grinding but, other tasks you can't perform with this.
A food processor has a bowl which consists of a motor which has a shaft in which you can attach a different kind of blades. It has a lid and a tube which helps to pour food into the bowl.
Now the question is what things you should consider at the time of buying a food processor?
If you have five or more than five family members then you should buy a food processor that has a motor of a minimum 750 Watt.
If you have around four family members then you should go with 600-700 Watt motor.
If you have two-three family members then a food processor with 500 Watt motor will be sufficient.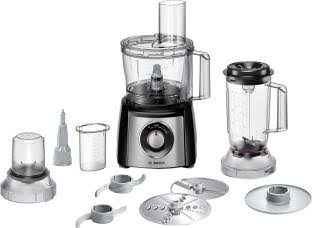 But there is some sort of things which make a mixer grinder best for the use.
It will not be suitable for making drinks. For that purpose, the mixer is best.
A blender can blend more smoothly.
Also, not good for making soups.
It's a time-consuming task as you have to clean it after every use
Working Of Food Processor
Mainly Food processor comes in three sizes mini, compact and full. It consists of a motor, bowl, lid, and a feed tube. It has a heavy motor ( approx 9 kg for full size) which gives it stability. There is a shaft attached to the motor in which jars fit. Then there is a lid used to cover the bowl which has a feed tube used t insert the food into the jar or bowl.
First of all, you have to select a blade that you want to use and attached it to the motor shaft.
Latch the bowl and lid into the processor.
Put the food that you want to chop through the feed tube. But first of all, clean the food and remove the roots( if it has).
You may use the pusher to push the food into the bowl (if required).
You can use it to chop vegetables, cracking nuts, making baby smoothies, and soups. (Use S blades for chopping vegetables.)
If you want to make dough or chop vegetables then you should use plus button rather than high in a food processor.
It is used for making deserts by crushing large pieces of ice.
Power Consumption, Budget, And Material Used In Food Processor And Mixer Grinder
Price Range Of Food Processor
The price range of the food processor varies from INR 3000- 1, 00,000. It is a little bit pricy but a middle-class person can afford it.
Insala food processor 650 Watt- INR 3899
Phillips daily collection 650 Watt- INR 3727
Phillips HL/7707 -750 Watt – INR 6600
Insala food processor INOX 1000 Watt- INR 7599
Bajaj food factory FX 11- 600 Watt- INR 6000
Bajaj FX 1000 – 1000 Watt – INR 7690
Kitchen aid food processor – INR 38000
Kenwood KM 287 – 900 Watt- INR 40000
Price Range Of Mixer Grinder

The price range of the food processor lies between INR 800 – 50000. It is so nominal and generally, everyone can afford it.
Lifelong power pro 500 Watt – INR 1199
Prestige Iris 750 Watt – INR 2800
Insala polo 550 Watt – INR 1099
Bajaj GX 1500 Watt- 1899
Phillips HL7756 – 750 Watt – INR 3000
Hamilton beach 1400 Watt- INR 25000
Chef pro-Cmg 617 -750 Watt- INR 38000
Maharani jumbo 2000 Watt – INR 16500
Power Consumption
Food processor – Power consumed by a food processor is between 650- 1000 Watt. It consumes more power.
Mixer Grinder –On average a mixer grinder consumes 500- 750 Watts of electricity.
Material And Technology Used
Food Processor – Bowles of the food processor is made up of unbreakable polycarbonate material. Three blades come with a food processor which we called "S Blades" and they are made up of metal, usually stainless steel. A lid comes with a bowl also made up of Polycarbonate material.
Mixer Grinder – A mixer grinder comes with three jars of different sizes and a top cover which is made of rubble kind of material. Two jars are made up of stainless steel and one of Polycarbonate material which is used for juicing purposes. All jars have stainless steel sharp blades.
The technology used –Mixer grinder was based on stone pounding technology. But in today's world, we have a food processor and a mixer grinder that operates with electricity and is based on gear drive technology. It has pounding blades with sharp edges. It replicates pounding effects on the foods and ingredients. The motor of a mixer provides high torque for grinding and blending.
Pros And Cones Of Mixer Grinder And Food Processor
Pros Of Food Processor
It is a multiuse appliance.
It can do the chopping, slicing, shredding, making the puree, nuts chopping, grinding pieces of bread, making the dough, etc.
If you have to prepare a number of dishes and if you love cooking then a food processor is best for you because it will save you time and energy.
It has bigger bowls than a mixer grinder.
It helps in preparing drinks, shakes, and soups and is good for preparing food for more than 15 members.
Cons Of Food Processor
It requires space in your kitchen and sometimes the loud noise can be irritating.
It is not at all good for making liquid drinks or soups, because liquid starts spinning out of the joints of a food processor.
Don't make a smooth and fine puree
It requires lots of time to clean them after use and could overcut vegetables and fruits resulting in a smooth paste.
It consumes more electricity than a mixer grinder but gets the work done.
Pros Of A Mixer Grinder
It can handle liquids very well. It can make drinks and shakes very well.
It is not complicated like a food processor and so easy to use.
It is easy to clean and doesn't need much time for cleaning.
You can adjust its speed according to your task. Example- low for making shakes and drinks and high for grinding, making a puree, etc.
It comes with affordable price. Generally, everyone can afford it.
It doesn't require much space in your kitchen and helps in preparing a variety of foods while consuming less electricity.
Cons Of Mixer Grinder
Hard to takes out all the ground food from the jar because blades don't give you much space to take out all the food by hand. Also, it can harm you while taking out food.
It can get overheated if you use it for a long time.
If you will use it frequently then its top rubber lid will get loose.
Not so stable, you have to hold the jar at the time of grinding or blending because it moves a lot.
Best Brands
Food Processor Brands
Mixer Grinder Brands