Good quality water is one of the vital necessities for the proper functioning of the human body. The water you drink needs to be free from all types of harmful microorganisms like viruses and bacteria, heavy metals like lead, artificial chemicals, pesticides, and more to be called pure water.  However, in many cities, the quality of drinking water is worsening day by day, which is resulting in many kinds of illnesses.
If you believe that the water from the tap in your home is absolutely clean and safe, then you are entirely wrong. Water travels through concealed pipelines in your home that can accumulate dirt when they are not cleaned for years. Sometimes even rodents and insects find their way into the pipelines. Due to all this, waterborne diseases such as cholera, jaundice, typhoid, and dysentery are very prevalent in India. This may sound scary; however, it is a reality in our country.  
Now the question is how to ensure that the water you consume at home is fit for drinking?  This is where quality water purifiers can play a significant role. However, deciding on the best water purifier for your home is bound to be overwhelming due to the plenty of choices available in the market. Make sure the water purifier you choose is efficient at removing all those things that are harmful to your family's health. Also, the best water purifiers provide excellent value for money and offer many advantages.
When it comes to purification techniques, a lot of purifier brands usually make use of three general categories, including Reverse Osmosis Purifier (RO), Ultraviolet Rays Purifier (UV), and Ultrafiltration (UF). All of these work great to eliminate contaminants like germs & viruses from the water, but UV can't filter the dissolved salts.
10 Best Water Purifier In India 2023
KENT Grand 8-Litres Wall-Mountable Water Purifier
Key Features
Filtration Speed – The water purification capability of Kent Grand RO stands at 15 liters per hour. If you stay in a place where heavy filtration of water is required, you should opt for the 20 liters per hour variant of this model.
TDS Control – Kent grand can regulate the TDS level of the water up to 500-2500ppm due to its patented RO technology. It is recommended to use a TDS meter if you want to know the accurate and correct level of TDS for the water you consume.
Purification Technology – It comes with the double-stage purification technology, including the RO and UV/UF. This is effective in filtering out most of the contaminants and other impurities. However, this will lead to water discharge that amounts to 650 ml for every single liter of water that will be purified.
Energy Efficiency – As far as energy consumption is concerned, it just uses about 60 watts of power which is considered decent and economical for a water purifier.
Further More
Suitable for families having 4-6 members
Double RO and UV/UF purification methods
Capability to control 500-2500ppm TDS
15 liters an hour of purification capability
8 liters tank capacity
Free installation and demo offered by the manufacturer
1-year manufacturer's warranty, plus 3 years of free service
Aquasure from Eureka Forbes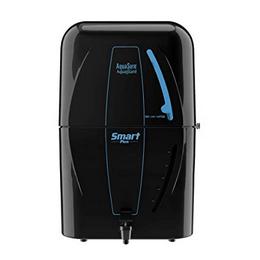 Key Features
Filtration Speed – It can filter at approximately 15-30 liters per hour. With the tank capacity provided, you can expect the tank to become full in about 12 minutes.
Purification Technology – Talking about the filtration, the Aquasure Smart plus performs multilayer water filtration. It proceeds with filtering out impurities in i-filter. Then chemiblock and the UV decontaminator trap any chemical particulate inside them.
TDS Control – The MTDS regulator, embedded in the device's system regulates the TDS content ranging between 200ppm to 2000 ppm in the water. For getting the accuracy in your measurement, you need to find out the correct TDS levels of the water sample with a TDS meter.
Energy Efficiency – Aquaguard consumes the considerably higher value of power (230 watts) in comparison to many other purifiers. However, the smart energy-saving mode ensures that power is spontaneously shut off when the appliance is not used. The smart performance of Aquasure also works to ensure device safety during voltage fluctuations at home.
Smart Cartridge Indicator – The cartridge life indicator is a smart feature to inform you about the water purification cartridge's life expectancy, which is ideally 6000 hours. However, factors such as TDS levels and others might lower it.
Further More
Sleek and trendy design
6 liters tank capacity
Full tank purification within 12 minutes
200-2000 ppm TDS control through the MTDS regulator
6 stage water purification
Purifier cartridge life expectancy and the cartridge life indicator
Smart performance in case of voltage fluctuations
1-year of manufacturer's warranty apart from 2 years of service
Faber Galaxy Plus 8-Stage Mineral Water Purifier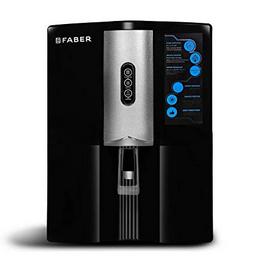 Key Features
Filtration Speed – It offers a good filtration speed of 13.5 liters per hour, which is ideal for a family of 4-5. The water entering the purifier undergoes 8-stages of purification, including RO, UF, UV, and MAT.
Purification Technology – The tank is built using food-grade plastic and the innovative germ block technology. The visible dirt and other particles get removed from the water as it enters the sediment filter. Next, it undergoes the pre carbon filter for having a chlorine content check and control. Then, the sediment 5 filter lowers the turbidity of the water. The copper guard technology will eliminate the foul smell present in water and also helps in improving its taste
TDS Control – The TDS regulator in the RO Membrane can filter and clear our TDS as high as 2500 ppm in water. It's best to test the TDS levels in water before using this for positive results. Later, the post-carbon filter called the MAT will upgrade the taste of the water. The UV and UF filter will keep the mineral content in check and perform a final bacterial purification before you drink the water. You should know that during the above process, for every 1-liter of water purified, about 650 ml of water is discarded as waste.
Energy Efficiency – Faber Galaxy is also believed to have good energy consumption, which is close to 36 watts of power. It also features an energy-saving mode for turning off the device's power supply, when the tank is full.
Further More
Good value for money
8 levels of water purification
An ABS plastic body with inbuilt germ block and copper guard technologies.
9-liter storage
Excellent TDS filter capacity
36 Watts power consumption
1-year warranty
Livpure Glo 7-Litre Mineralizer Water Purifier
Key Features
Filtration Speed – With its given tank capacity, Livpure Glo 7 can purify at a rate as high as 12 liters per hour. This helps to provide full- tank purification within 30 minutes or so. It is perfectly fit for a family of 3-4.
Purification Technology – If we consider its water purification technique, it boasts of 6-stage water purification. First, the water reaches the sedimentation filter where the filtration of visible dirt particles takes place. Then the water arrives at the pre carbonated filter which is works to absorb all the chlorine and other related chemical impurities.
Reverse Osmosis chamber (RO) makes sure to draw out pesticides, herbicides, and some other complex synthetic compounds. The water is then thrust into the UV disinfection chamber, which ensures to remove any bacterial residue in it. Later, the post-filter carbon filter restores the taste of the water. Finally, the mineralizer will check to ensure the water has balanced mineral levels.
TDS Control – The TDS regulator can check water with TDS as high as 1500 ppm, which is often a problem in a place with high TDS content in water. Always review your area's water TDS level beforehand to check if it's between 30 and 100ppm. Note that for every 1 liter of water getting purified, the device will give out 650 ml of wastewater. This water can be useful for other applications like gardening.
Energy Efficiency – This water purifier offers excellent features such as purification processes indicator and full tank status indicator. The system automatically switches off when the tank gets full. Therefore, the 7-liter tank capacity allows you to get pure water even during no current supply.
Further More
7-litre tank capacity
12 liters per hour filtration speed
6 stage water purification
High TDS filtration capacity
1-year warranty
Aqua Fresh Adjuster Water Purifier
Key Features
Filtration Speed – The filtration rate of 10 liters per hour helps to fill its large tank in about 40-45 minutes.
TDS Control – Speaking of the TDS, the RO Purifier is capable of filtering and regulating the TDS levels maximum up to 1000ppm. This renders the purifier unfit for homes in areas with a lot of contaminations or the TDS level of water is enormously high. Before choosing this device, you'll be required to perform a TDS testing to know what the TDS level of your water source is.
Purification Technology – RO and UV technologies, work to eliminate contaminants such as bacteria, viruses, and other impurities from the water. On the other hand, the UF and TDS ensure to maintain the balance and optimum level of natural minerals in the water.
Energy Consumption – When we consider the energy consumption of Aqua Fresh, we notice that it consumes very low power of roughly 24 watts. The system is completely automated with two separate alarms for notification about changing filters and non-functioning UV filters.
Further More
A budget-friendly option
A large tank capacity
Less power consumption, so it cost-effective
UV fail alarm indicator
Refill alarm
1-year warranty
HUL Pureit Advanced Water Purifier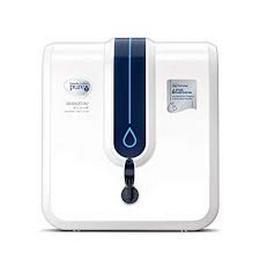 Key Features
Filtration Speed – Pureit performs the filtration at the rate of 12 liters per hour. This helps to ensure that the tank gets completely filled in less than 30 minutes, and the power consumption remains at 36 watts only.
Purification Process – The 6 stage purification process of Pureit utilizes the main filter which can vary depending on the product variant that you choose. The different main filter versions include RO+MF (microfilter) version, RO+UV+MF, and RO+UV version too. The RO+UV+MF combination can filter the water thrice more efficiently than other solo filter water purifier.
TDS Control – This purifier is known to purify water till 2000ppm TDS. It is effective enough for most areas. To ensure accuracy in measurement, you should learn about your water's TDS levels by using TDS meter or by contacting your authorities.
Similar to several faster purifier models given here, this device too throws out around 650 ml of water for every single liter of water being purified by it. It is good if you store and reuse this water for other needs.
Energy Efficiency – Pureit features an excellent energy-saving mode that functions to shut off the device when the tank gets full. It also saves the device in the event of voltage fluctuations.
Further More
Decent TDS control and filtration rate
36 watts of low power consumption
6 stage purification
Different models available
Energy-saving
Auto power cut feature for voltage fluctuation
1 Year manufacturer's warranty
Blue Star Aristo 7-Litre
Key Features:
Filtration Speed – With a 7-liter tank it is built to purify around 7 to 8 liters of water per hour. This makes it relatively slower than other purifiers on the list. However, the RO purifier is full of many useful features.
Purification Technology – It features an intuitive 6 stage filtration. The first three stages involve the movement of water through a pre-sediment, carbon and sediment filters. These processes ensure that visible impurities from the water are eliminated. After that, the water passes through the stages of RO, UV, and post-carbon filtration for the additional bacterial cleansing.
TDS Control – Overall, the Blue Star Aristo can effectively treat water with up to 2000ppm TDS.
Just like several other purifiers in the list, this Blue Star Aristo also generates 650ml of wastewater for every 1-liter purifier. You can place the discharge pipe in such a way that this water is gathered in the sink or a tub for later usage.
Energy Efficiency: This device has 36W of power consumption which is considered economical.
Further More
7 liters tank capacity
High purification speed
6 stage filtration
Good TDS capacity
ATB boosting the taste of water
Free pre-filter in the toolkit
LED indicators UV Lamp fail, full tank, and low water pressure
36 watts of power consumption
1-year warranty
Aquatec Plus Advance Plus (12L)
Key Features
Filtration Speed – The Aquatec purifier works with a good filtration speed of 15 liters/hour. Thus you don't have to keep on waiting for long to meet your higher demand for water.
TDS Control – They have a highly efficient technology for reducing TDS levels and producing potable water. The Aquatec water purifier system can work to produce clean water from any water with TDS of up to 2000 PPM. Also, the Advance Plus purifier system is great for making potable water received from any source.
Purification Technology – This cutting-edge water purifier uses an 8-level of the water filtration system. The Sediment, Carbon, Ultraviolet, Pre-filter Post-carbon, and Ultrafilter are included in the primary stage. After several stages of purification, finally, you get the filtered water, which is odorless, germs-free and has a natural taste.
Energy Efficiency – Its power consumption requirement is 42W.
Further More
The 8-stage purifier system
Equipped with excellent TDS control and filtration speed
The affordable purification system
Free of cost installation
Quick complaint resolution by the brand
Havells Max Alkaline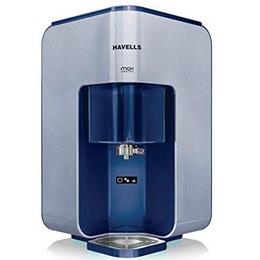 Key Features
Filtration Speed – The unique design of the product ensures water purification at 15 liters per hour. It performs the 7 stage purification, which is similar to a lot of the premium water purifiers brands in our list.
Purification Technology – The filtration process involves stages, including RO, UV, pre-filtration, carbon filters, sedimentation, pH filters, and post-carbon filters. The water's pH is controlled by mineral technology, which is also responsible for including natural minerals in trace amounts. A revitalizer performs its role of magnetizing the water while enhancing its mineral absorption.
TDS Control – The TDS filtering capacity of the device is a massive 3500 ppm. For every single liter of water getting purified, you will lose almost 650 ml as waste. This can be reused for non-drinking purposes.
Energy Efficiency – The purifier comes with inbuilt alert indicators, such as UV lamp alert which makes it a highly efficient device. The iProtect system's function is to secure the purifier from any potential power failure issues.
Further More
Good water storage capacity for small families
Better water purification speed
High TDS filter capacity
Advanced voltage guard
Failure alerts
1-year warranty
Konvio Neer Premium Water Purifier
Key Features
Filtration Speed – This purifier with a massive tank capacity filters at 20 liters per hour. This renders it a fit for use by large families of 4- 5 members.
Purification Technology – This device is manufactured with components sourced from the premium brands in the industry. It boasts of a 7 stage filtration process which is identical to most of the purifiers in the list. In the beginning, the pre sediment filters filers out all the visible impurities.
TDS Control – Konvio Neer can work to regulate TDS levels of up to 2000 ppm in water along with an 80 GPD high flow. Higher GPD is considered favorable. The GPD booster can increase it to 100GPD, which will result in a full tank of water within an hour. Konvio Neer also offers a TDS meter and a free pre-filter.
Energy Efficiency – It takes up approximately 3W of power, which renders it a high energy efficient device. You also get a smartphone app that is designed to help you monitor your purifiers' health, and create automatic service tickets when needed.
Further More
A huge 15 liters tank
Excellent speed of filtration
UV lamp from Phillips
TDS Membrane from LG
7 stage filtration
Free installation
Free pre-filter
1 Year manufacturer's warranty
Free mobile application
Very low energy consumption
Buyers Guide
The three types of water purifiers are Gravity Based Purifiers, Ultra-Violet(UV) water purifiers, and RO Water Purifiers.
GRAVITY BASED WATER PURIFIER
This type of purifier uses the concept of the force of gravity along with a filter for the purification of water. No electricity or running water is required for this purifier. When the water flows from one section to another all the dirt and impurities are eliminated. An activated carbon module is used in this which is responsible for removing parasites, viruses and other impurities and making the water safe for human use.
ULTRAVIOLET WATER PURIFIER
This water purifier uses Ultra-violet rays in order to make the water clean and removes the harmful bacteria and viruses present in the drinking water. It is one of the most efficient concepts of water purification. It consumes electricity as well.
REVERSE OSMOSIS WATER PURIFIERS
This is an electric water purifier that uses the concept of reverse osmosis for the purification of water resources. It uses a multi-stage purification process for eliminating impurities, TDS and harmful contaminants, viruses and other bacterias. It is one of the finest purification systems available in the market today.
Safety Measures Of Water Purifiers
1.Use of Water Filteration Tablets
Water Filtration Tablets are one of the great ways to prevent yourself from getting ill.these tablets to kill pretty much everything and do not help with flavor or sediment.
2.Use of Filter Media
In Filter Media, technique water is run through some kind of filter media. There are many different kinds of media. Carbon and sand products are used which facilitate ionic exchange, reverse osmosis membranes, etc. In Filter Media, the water is run through some kind of filter. Carbon, Sand products also facilitate ionic exchange, reverse osmosis membranes, etc.
Purification Techniques
The earliest method of water purification used was to add chlorine to the water. Chlorine releases HCL which acts with microorganisms and kills them. Due to the negative effects on health, it may kill certain types of protozoa. As a result, this technique lost popularity and paved the way for other purifying techniques. Six different types of water filters available today are:
Active Carbon Filter
It is used to purify soluble gases like Chlorine, Carbon monoxide, nitrogen, ammonia and organic materials like algae, leaves or any other dead thing washed into the water body.
Biosand Filter
Sand or gravel is there is a concrete plastic box that removes pathogens. Water is poured into the top of the filter and collected in a safe storage container. Suspended particles and pathogens can filter 12-18 liters each batch.
Reverse-Osmosis Filters
These filters offer multi-stage filtration of water by combining active carbon and particle filtration. Tap water is made to pass through membranes having small-sized pores. Impurities are flushed out via outlet pipes.RO Water purifier improves the taste of water.
RO filters are recommended for places where there is a high content of dissolved minerals. Darker sides in the RO purifier are there are chances that membranes in these filters can drain out some necessary materials also. This type o system requires a continuous water supply system and it can be fixed to only one water tap.
Ultra-violet Filters
The UV light is mainly passed on water and kills several bacteria and microbes by attacking the DNA cells. All these filters remove pesticides by up to 99%. This filter is mainly used for removing all types of pathogens, but it is not at all effective for removing suspended particles, chemicals, tastes, smells and colors. It can purify 2000 liters/ daily.
Ion Exchange Resin Filters
In such types of filters, water is mainly passed through soft resins that absorb the minerals. These filters can soften the water by absorbing all the minerals present or by sucking up salts and completely de-mineralizing the water.
Conclusion
Clean water is the need of the hour in today's world. If sufficient measures and precautions are not taken in order to clean the freshwater, we all may become devoid of clean water and encounter problems that would become very hard to overcome later on. Pure water is the world's first and foremost medicine.No water, no life, no blue, no green. It is not pollution that is harming the environment, it is the impurities in the air that are doing it.
A lot of measures need to be taken and there is a long way to go. As the technology progresses day by day, we need to improve our methods of protecting our water supplies because someone has rightly said that "CHANGE DOES NOT HAPPEN WHEN CIRCUMSTANCES CHANGE, IT HAPPENS ONLY WHEN YOU DECIDE TO CHANGE THE CIRCUMSTANCES".