The kitchen is an area of high activity. Cooking happens day and night, all the time in the kitchen. We design our kitchen according to our needs but we need to update it as well over time. New technology is launched every month or so and the appliances become old. The traditional and manual way of cooking is being taken over by the new technological appliances.
Appliances are needed in the kitchen. Things like baking a cake, grilling a sandwich, making juice, etc. need appliances. These things can not be done manually now. For a small kitchen buying, any appliance needs proper planning and execution. We can not stuff our kitchen with all the things. Only the most needed appliances should have a place. Now we have to decide what are the most required appliances. There are many factors on which we have to decide on a budget, the best technology, etc.
Moving on, here is a proper buying guide for selecting small appliances.
Buyer's Guide
Perfect Size
The first thing to acknowledge is the size. Appliances for instance juicers, mixers, etc, come in different sizes. From big family size products to small portable products, it is available in all but you have to choose the correct size for your kitchen. For a small kitchen, it is preferable to have appliances of small to medium size. As they will not take up all the space and will fulfill the requirements too.
Budget
The second most important thing to consider is the budget. Set your budget, make it clear where you want to spend and how much of it. Divide your budget into small portions and invest them in the right appliances. Do not spend your entire money on a single commodity.
Dismiss the standard beauty
While shopping, people usually choose products that look pretty. Don't fall for it. We are not asking to buy ugly outdated appliances but choose quality over everything. Safety and quality come first. Do not buy anything that just looks appealing. A lot of times people fall into the trap of beauty and colorfulness of the product and then regret it big time.
Safety
Safety is the most important factor. Never buy anything that plays with safety especially electric and kitchen appliances. You never know what will happen so it is better to take corrective measures beforehand. Buy the products only that confirm the standard medium of safety.
Consumption of power
Another prominent factor is consumption. It is necessary to know how much the appliance consumes energy. Buy the product that consumes less energy and provides more assistance. Before buying Grinders, Cookers, toasters, etc. lookout for the consumption of power. It is a must.
6 Must-Have Appliances
These appliances help you in day-to-day activities. It makes your work easier and saves time. These appliances fulfill the requirements of all sizes of families.
Food Processor
As you know or heard from your mothers probably that the food processor is a must. It makes all your task easy. The food processor does chopping, slicing, mixing, and juicing. All you have to do is change the blades of the processor. It has different kinds of blades for different kinds of work. If you will work manually then all these things will consume a lot of time and effort. One can easily buy it as it fits the budget.
Philips HR 7627 Food Processor
This food processor works superbly. Available in white, it will not only come into your budget but it has other amazing features as well. The first thing to look out for before buying is power consumption. Its power consumption is 650 W and its power requirements are 220-240 V. The energy rating it has gained is 4, which is excellent. Talking about the processor, it has a 2.1-liter bowl that chops, dice, slice and mince easily. It has stainless steel disks that will go a long way and a dual-speed control setting.
Best suited for: The Philips food processor is best for every kind of family. If you have a small, average or big-sized family, it will be best for all.
Pros
The best thing about this food processor is that it will not create a hole in your pocket.
The other thing to acknowledge is, that it is for all sizes of families.
Cons
It is tough to wash the processor as the remains of the vegetables get stuck in it.
Microwave
The microwave is an appliance that has managed to garner a lot of popularity because of its amazing features. Now you will say why I must have this? So the answer is, that it can heat the food, bake, defrost and cook for you. A product that does all the things efficiently is a must-have, right?
Samsung 21 L Convection Microwave oven
This black-colored microwave excels in all fields. It is best suited for a small family. You can place it on the side countertop. Microwaves do not take up much space. The best feature of this microwave is that it has a child lock. It ensures child safety. The power consumption is 1200 W and 230 V power required. The technology used is the triple distribution system. This Samsung microwave has a 1-year warranty and offers microwave bowls too.
Best Suited for: A small family can easily use and devour it.
Pros
The best thing about it is the safety measures taken. The child lock is an amazing feature.
It has anti-bacterial protection, the ceramic enamel interior prevents the growth of bacteria.
Instant Pot
The instant pot is a new launch and has taken over the market in a few years. This appliance is a must-have as it does most of the cooking in it. It is the most reliable. The best thing about the instant pot is that it does not need a cooktop to work. Plug it in the electric socket and done, it is energy-saving too. Another great feature is that it can slow cook. The instant pot is safe to cook as it has several security measures, unlike the traditional pressure cooker that can blast if anything goes wrong.
Mealthy Multipot Instant pot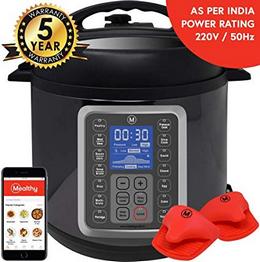 This black-colored Instant pot can slow cook, saute, steam, make yogurt and rice, keep the food warm. The pot is made up of stainless steel and has an LCD screen. It has multiple safety measures such as smart locking sensors, an anti-block shield, electric current and temperature fuse, etc. It works on 220 V. Another smart thing is that the Instant pot is on a 5-year warranty. It is 7.22 kg and has a 6L capacity.
Best suited for: A large family can easily use it. It has a 6 L capacity and can serve up to 7-8 people.
Pros
The stainless steel pot will work for a long time.
It keeps the food warm for as long as you don't take it out.
Cons
A little heavy to handle and maintain.
Induction Cooktops
The Induction cooktops are slowly replacing the traditional cooktops as you must have seen. They are better than the traditional and manual gas-stoves ones in a lot of ways. It is energy-saving and a must-have as it has many benefits. You may ask, why do I need to change my stoves to Induction cooktops? The answer to this popular question is that they are economic and energy-saving too. The gas stoves make you lose your valuable money every month consistently whereas the induction cooktops are easy to maintain.
Philips Viva Collection Induction Cooktop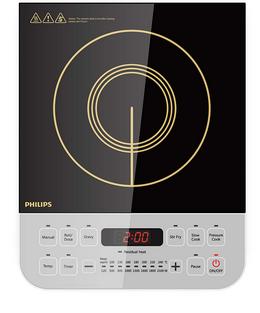 This black Induction cooktop fits simply into your budget. Its power consumption is 2100 Watts and power requirements are 220-240 Volts. This appliance has a 1-year warranty and does not get hot while cooking, which means it is easy to touch. It will not take up much space, you can place it at the center of the kitchen slab. The cooktop weighs 2.8 kg, which makes it easy to clean and handle.
Best suited for: It can be used for any size of the family from small to big.
Pros
This Induction cooktop is cost-efficient.
This appliance is very light in weight.
Cons
For operating an Induction cooktop, you need to have constant electricity.
Blender
The Blender is necessary to have in the kitchen. It is small and can fit into a cabinet conveniently. Its main function includes blending the sauces, beverages, smoothies, etc. together. Every Kitchen should have a blender to make your work easy. Blender is perfect for every occasion but it makes the summer delightful. Just add some of your favorite fruits with ice and blend it quickly, then enjoy! The blender is a must-have because first of all, you can get it effortlessly, and secondly, it helps you with daily tasks.
Glen Electric Blender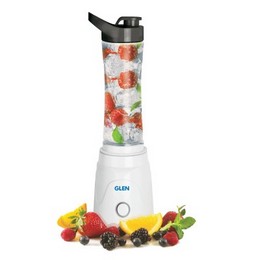 This black colored blender comes with a lot of features. It does not have a traditional jar to blend in but it has two bottles. Blend your mixture in the bottles and then use it. You can carry the bottles anywhere. It has stainless steel blades for efficient blending. The push-start button is for easy control and continuous blending. The power consumption is 250 Watts. They are providing a 2-year warranty too. It is ideal for a small kitchen.
Best suited for: The bottles provided can be used by 2 persons maximum but the blender can serve many.
Pros
The best thing about this appliance is that it is very cost-efficient.
The bottles provided can be used for a long time.
Cons
A little sturdy to clean.
Grill Toaster
This appliance is very interesting to have. Not many people possess it but this has come out as a very useful one. The kids in the house want something tasty and delicious otherwise they go on a strike and innovating something different every week is a huge responsibility. The grill toaster is uncomplicated to handle and you can create some tasty food swiftly. It can fit appropriately in a small kitchen. The budget is also not a problem while acquiring it. For some mouth-watering and fun dishes, this one is a must-have.
Prestige PPBB Barbeque Grill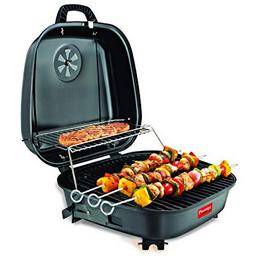 This barbeque grill is quick to assemble. The unique feature of this barbeque grill is that it does not work through electricity or gas but it cooks on coal. You must know that the food which is prepared on coal has a very different
And traditional taste. The appliance is on a 1-year warranty. This grill is easily foldable and portable. You can pack this for your family vacation.
Best suited for: This barbeque grill toaster can serve 2-3 persons. Designed for a small family.
Pros
Cook appetizing and traditional food on this grill.
This appliance is portable, easy to carry.
Cons
You need to spend a few more bucks on coal.
Conclusion
The first thing to consider is, do you need to buy or update an appliance? Every month or every two months, the manufacturers of kitchen appliances launch their new products which have new features and technology. If you are planning some time to update your kitchen then look for an appliance that is needed the most. For example, if you have a sweet tooth and love baking then a good microwave is necessary.
Buy an appliance that you can use for more than one thing. Let's take an example of the microwave as we were talking about it, microwave can be used for more than one thing. Such as it can bake, roast, and simply cook for you. Should we buy separate appliances for every work? No, that will be a waste of money and it wouldn't adjust to a small kitchen too.
These were our top 6 small kitchen must-have appliances. They all will truly and conveniently fit into your kitchen. You do not need to create any space, especially for them.