Hitachi is a strong and growing foothold group. It manufactures and supplies a variety of products in India and worldwide. Hitachi holds promise of wise and efficient technology which inspires the next. Their product ranges vary from lots of domains including air conditioners also.
Hitachi provides a wide variety of durable and cost-efficient air conditioners that will surely worth your money. They provide you a sound and calm environment to sleep and rest within.
With the rising temperatures in our day to day weather, one always needs to cool down a little. What can be more heavenly than a swift cooling breeze of an air-conditioner.
So keep, reading. In this article we will thoroughly breakdown the best line of air conditioning technologies used by Hitachi and their competitive models in the market.
What to look, to buy an air conditioner ?
1) Window AC or split AC
Money- on clear terms windows AC's are cheaper than the split AC's.
Space- if you have a window at your home, then you can easily get a window AC fixed in it. But if you don't have any windows you can always opt the split AC.
What are the differences?
Cost – If you have a low budget then you should go with the window AC. The purchase cost is lower than split. The installation cost is also low, but the carpenting may be hectic.
Noise – Window AC have more noise compared to split AC. It runs on regular time intervals and might irritate your sound sleep. The split AC makes the minimal sound as less as 1/10th noise of window AC.
Reconstruction– Window AC requires a reconstruction to support frames of wooden or plastic as suitable for the customer. In split AC, there is no condition as such.
Water output – Window ac require a special water output and directed outlet to drain the residual water.
Myth – A myth has been, carried since ages that windows give better cooling. But in reality split AC provides more cooling than the window AC.
Now, whether you want to buy a window ac or a split AC it depends upon your budget and spacing.
Technologies used by Hitachi
Dual or triple inverter technology
Conventional AC's use the full power of a compressor. When the temperature was achieved they tend to stop suddenly. AC using dual inverter technology switches to power saving mode after achieving the required temperature. It fluctuates between the range of the temperature set, maintaining the environment cool enough efficiently. This results in saving power and energy and the machine's life is also prolonged due to less stress.
i-fresh technology
This technology for the air-conditioners proves to be amazing. It replaces the need for manual servicing of the machine to self-service mode. Hitachi claims that if you want service for your AC, there is a dedicated button in your device. It has a cycle of 53 to 63 minutes. The first 3 mins, compressor is on and then it turns off. And the indoor unit having the evaporator coil which has fins on it, automatically gets frozen with ice on it. Then the temperature goes up to minus 15 degrees.
After this, the snow melts itself and carries away as the dust particles, unwanted residue, bacteria's, fungus and is drained by the water outlet. And this technology saves 1000 to 1200 rupees of manual servicing. And this technology is also inbuilt with a self-activating program. It activates every 70 hours so you don't have to worry about activating it every time.
Expandable technology
With the new expandable technology, one can easily increase the tonnage capacity in order to provide more cooling. This increases the compressors working efficiency to a certain extent. It produces more BTU/hr(cooling capacity) which results in an increase of overall cooling capacity of the Air Conditioner. For eg- you have a party at home and the AC's needs to maintain the temperature. Here, expandable feature can easily convert your expandable 1 tonne AC to 1.2 tonne AC in few minutes.
iSense activity sensor technology
It is a smart technology which tracks the human activity inside a room via the infrared sensors built inside. The activity sensor computes the data and increases the temperature by 1 degree in every 2 hours. It makes sure that excessive cooling is prohibited and you get a comfortable sleep while saving power as well.
Inverter compressor technology
This technology helps to maintain a wide range of temperature hot&cold ranging from -15 to 52 degrees Celcius. This means faster heating in winters. Moisture retention and maintaining the comfort level inside the room. So this means no matter What part of India you are in, you will always feel comforted.
iSee image sensor technology
This is an advanced form of image sensing technology which basically tracks human occupation in the room. It scales the dimensions of the room to easily manipulate the direction and amount of airflow towards the human presence without wasting of the cooled air.
Tropical inverter technology
In this tropical inverter technology, Hitachi has included a very unique variable speed tropical compressor. It can vary is RPM(rotation per minute) by adjusting the power supply frequency. All of this is possible due to a seamless Cascade Vector DC Inverter System that comes with a micro-computer pre-installed. And this is how they are able to beat the conventional Inverter AC's.
Capacity in tonnes?
There is a lot of confusion regarding the AC capacity. Speaking in terms of tonnes capacity in general, 1 tonnes or 1.5 or 2 tonnes refers to the amount of ice that the AC can produce cool air of, regardless of the weight of the ac.
Now, how to select the perfect one for you. For a room of 90-100 Sqft.= 1tonne ac, 110 -150 Sqft.= 1.5 tonnes ac, more than 200 Sqft.= 2-tonne ac. And if it exceeds more then this you can always buy a combination of these above mentioned.
What metal to go with aluminium/copper?
So when it comes to metal copper is better than aluminium because copper is easily repairable, has a long life but is costly whereas aluminium being the cheaper option is affordable but needs high maintenance and has comparatively low heat distribution.
BEE Star Rating
Okay, till now you have got to know what the options available and what kind of AC do you require, now comes which star rating to go. For people who don't know what is star rating, it is the energy efficiency scale of any electronic appliance. In general, terms which of these AC's would give you the lowest bill by saving electricity due to power consumption efficiency.
Talking about the electricity bill, it depends upon your usage. Getting to the point the non-inverter AC comes with an only 3-star rating(truly) because of they aren't much power efficient.
But, if you see what the picture depicts about the savings on a 3-star AC with 5 or 4 star one, you should probably choose the 3 stars one because money saved in today's time will be worth than save amount saved from the electricity bill of the future.
10 Reasons To Buy Hitachi AC's
I-fresh technology
As this technology helps you to clean your Air Conditioner itself without any manual interference, is definitely a very good point for the top 10 reasons.
Expandable series
With this feature Hitachi claims that with expandable technology one can increase the size of tonnage capacity, for eg- you have party at home and the AC's needs to maintain the temperature, so here kicks in the expandable feature you can easily convert your expandable 1 tonne AC to 1.2 tonne AC in few minutes.
Tropical inverter technology
Hitachi says that their inverter models can work with up to 52 degrees ambient temperature without getting tripped or damaged. This can work handy in warm places because the temperatures are rising day by day.
T-flow fan (wave blade design)
According to them the blower provided in the indoor unit has a sign wave design which reduces the noise level quite to an extent and increases the cooling capacity as compared to other brands.
Beak flow deflector
Hitachi says that this provides a wide-angle movement. This means that the flaps of the Hitachi AC's from where the cooling air circulates can move up to 90 degrees which makes it very efficient in flowing cool air.
Soft dry or auto call dry
A lot of times we find a bad smell after the AC's switched off. To tackle this situation the blower fan after switching off rotates on a low rpm up to 3min and dry's out all the moisture that is present inside the evaporator coil which results in clean air without any foul smell or odor.
Filter clean indicator
Well, we get a lot of filters that filter the dust particles, bacteria, and fungal activities but none of them tell you that your filter needs to get cleaned. But in case of Hitachi, it will automatically start indicating you that the filter needs to get cleaned.
43 quality test
Hitachi claims that all of their models go through 43 quality tests which ensure that every product of their works properly in every possible condition and provides clean and cool air to you.
Warranty
So if you buy any of the 5-star inverter models you have the chance to get 2 years of machine warranty, 5 years pcb warranty as well as 10 years of warranty on the compressor. And if you buy any 3 stars or 4-star model you will get a 1-year machine warranty, 5 year's pcb warranty, and 10 years of compressor warranty.
No installation charges
If you buy a 5-star model then the installation fee is completely nilled whereas if you buy a 3 star or 4-star model then the installation fee will be around 499 rupees.
Choices Hitachi offers
Window air conditioners
Hitachi have 4 models of window AC's which offers a more practical and economical option for air conditioning systems. These air conditioners are for those who want to cool their single rooms instead of the whole house. This small chasis can be installed with ease in small apartments. These come with an auto climate feature which automatically detects the ambient temperature and stabilizes the temperature according to it.
Summer TM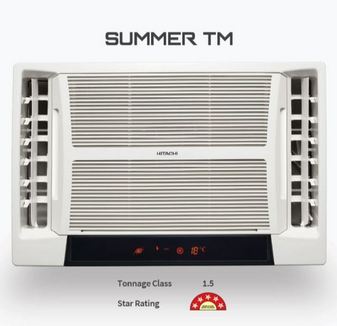 So thus window ac comes with twin airflow, provides you a total of 18300 btu/hr which defines its cooling capacity and comes with the kaimin function. Kaimin neutralises according to the ambient temperature. It also has a on/off timer which allows this smart ac to automatically set the desired temperature at a specific time without a manual hand. This AC have a filter clean indicator and is passed through 43 quality tests. The inner grooves are made with copper and it has a tropical design.
Summer QC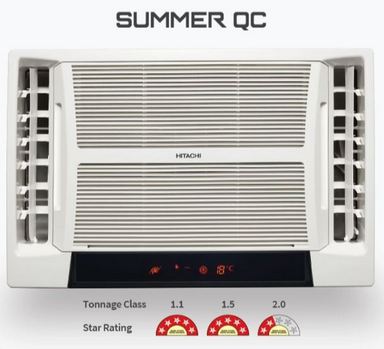 Like the summer tm it also has twin airflow, kaimin function and silent cooling and other features such as on/off timer , filter clean indicator but it is super silent and comes with variants which varies its tonne capacity 1.1, 1.5 and 2.0 TR among which the 1.1 and 1.5 have 5 star rating and the other one have a 2 star rating.
Kaze Reidan
This model of offering some extra features compared to summer tm and qc models because it comes with hot & cold function i which the user can easily choose the option of preference, the kaimin function is also there with heating and cooling. This also comes with filter clean indicator, on/off timer and dry mode which helps you to decrease the room humidity by softly cooling the room. But comes only under 1.5 tonnage class.
Kaze Plus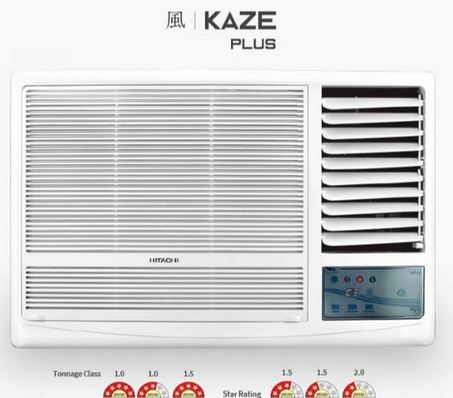 Like the kaze reidan it also has the same features. But it comes with powerful mode and auto restart option which is very useful and cant be seen in kaze reidan. It comes under 1.0 and 1.5 tonnage class with 3 models of 3, 2 and 5-star rating.
Split air conditioners
Hitachi offers both the inverter split air conditioners and star rated split air conditioners. These are very attractive and appealing because they are slim in size and comes with intelligent and unique features. Hitachi has constructed these machines according to the tropical weather conditions that are India centric and these AC's will save a lot of your money with their energy efficiency.
Kashikoi 5200X HP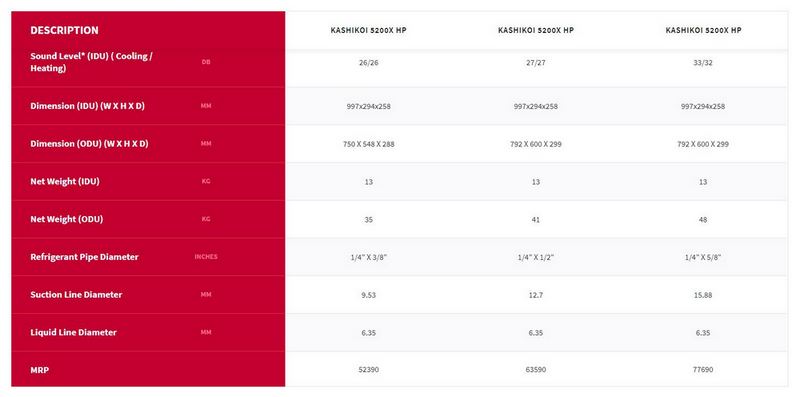 This comes under 3 tonnage classes 1.0,1.5,1.8 respectively.this imbibes auto coil dry and has big flow deflector and wave blade design, the hot & cold tech can maintain desired temperatures from -15 degree to 52 degrees celcius. It also has expandable inverter ac technology as well as isense activity sensor technology.
Kashikoi 5400X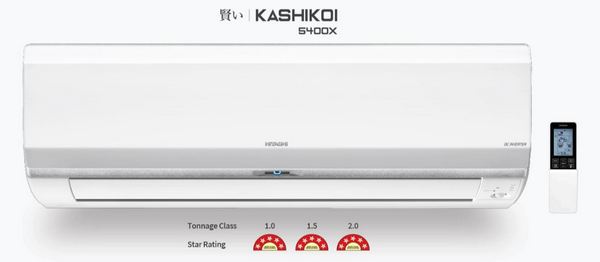 It also has the same features as mentioned in kashikoi 5200x hp but comes in 3 tonnage class 1.0,1.5,2.0 respectively.
Apart from this it also has iclean+ and sees image sensor technology which automatically detects the no of people sitting in a room so that it can send cooled air in that direction and avoid wastage of cooling.
Kashikoi 5300fx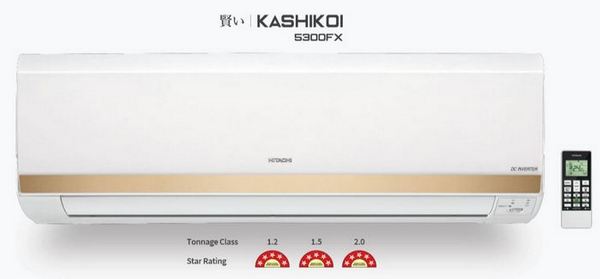 This ac comes with 3 tonnage class 1.2,1.5 and 2,0 respectively. Apart from all the same convenient features that are present in the above ones this comes with i fresh technology, expandable inverter technology and tropical inverter technology which regulates the rpm of the compressor at variable speeds.it also have a 4-way air swing control.
Kashikoi 5100X+/++
This model of AC comes under 2 tonnage classes 1.0 and 1.5 respectively. Other than this it has auto coil dry, big flow deflector, wave blade design, expandable inverter AC, filter clean inverter, a tropical inverter which manages the rpm of the compressor with a micro-computer program installed within it. This AC is Stabiliser free and supports ECO-Friendly Refrigerant.
Takeshi 5100X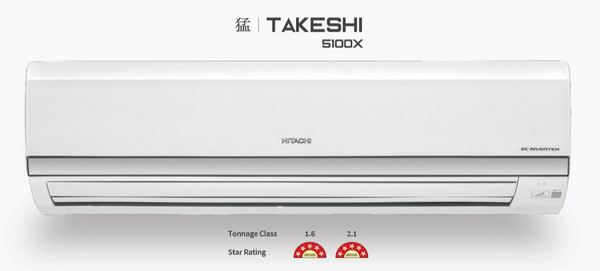 As compared to other models this comes under 1.6 tonnage and 2.1 tonnage class variants. It gives the same generalized specification but comes with a stainless steel filter proved to be highly anti-bacterial, dust-free and easy to clean.
Conclusion
After reading such a derivative viewpoint you must have got an idea about the ideal purchase for your choice that might complete your needs and requirements. In order to purchase the right AC, firstly you need to decide the budget, your cooling requirements after that you have to choose between window and split AC. Both the ACs are good in its segment where split provides more cooling with a higher price, the window AC will also give you satisfactory results with a cheaper price tag. But if seen the split ACs have better durability than the window one and comes with a whole lot of specifications.
As mentioned above Hitachi provides a long range of AC but if you ask a technical opinion then no matter whatever model you choose please ensure that the tonnage capacity is worth your requirement and the BEE star rating is at least 4 or 5 because this you surely provide you efficient cooling while managing low electricity bills.