Ceiling fans are one of the most fundamental pieces of electronic equipment in any place, be it your home or workplace. They immediately give a definition to the interiors of the place and the very sleek ones lift up the vibes of the area. Ceiling fans are also inexpensive when compared to other home appliances and are a must.
Again you can have an air conditioner better called an AC and enjoy the charms of it, but again not everybody owns one. Also, that certainly adds some extra burden to your electricity bill, if used as the lone source of cooling! So, in this article, we intend to talk about the best ceiling fan brands available in India.
Best Ceiling Fan Brands In India
Best Ceiling Fan India 2023
Fans for the bedroom
Fans who are preferred by the adults in their bedroom are naturally those which give you the comforts of cool breeze with no noise. Moreover, easiness in operation is always preferred.
Havells Nicola 1200mm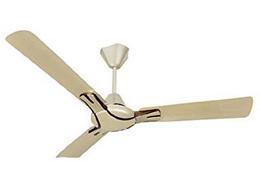 Havells Nicola 1200mm ceiling fan is an amazingly high-performance ceiling fan which has got an extremely wonderful design. It has a flawless look.
Its amazing motor works at an rpm of 330, and the fan runs consuming around 68 watts of power.
The strong aluminum blades give the much-talked strength and efficiency of the ceiling fan. The price is great too.
With a Power Consumption of 68 watts and a nice airflow of 225 cm, this is a great purchase.
It comes with a warranty of 2 years which is a fine deal.
Usha E series EX9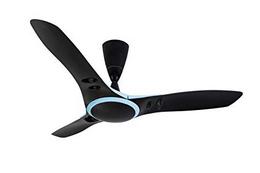 Usha E series EX9 Ceiling Fan comes with 3 Blades and it offers a range of 3 attractive colors so you can choose whatever suits you.
It is packed with an efficient torque motor and awesome aerodynamic design.
Due to its design, the fan delivers the best amount of air and that too with the maximum amount of comfort.
Its main feature is the sleek aerodynamic design which gives it an edge over others.
There is a high torque motor and a silent and no noise operation, so you can rest at ease. Perfect for bedrooms… is not it?
Fans for the living room
Living rooms have fans which look stylish and offer a style statement while being a power saver since they are hardly switched off ever. Also being anti-dust is an added feature.
Gorilla Ceiling Fan
It has been said that these Gorilla Ceiling Fan operate 3 times longer on the backup of an inverter, way better than other fans.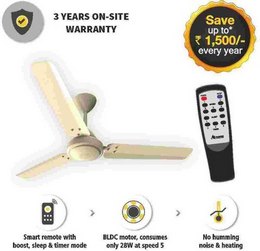 Not just that they deliver better energy output performance when RPM and air cover or spread are considered.
Moreover, the power consumption of Gorilla fans at full speed has been set such that it reduces power consumption by a stupendous 65%.
The gorilla fans have been voted as the winner of United Nations GCIP 2016 in the energy efficiency category.
They come with a super energy efficient BLDC type Motor. You get an easy speed control using a smart remote.
There is hardly any humming noise.
There are also 3 years of warranty for this product.
Energy efficiency becomes one of the prime reasons behind people rushing towards choosing this ceiling fan over others.
Thus you can be very sure of a consistent performance even when you provide it at low voltage and power, making it very suitable for Indian rural, semi-urban and urban households.
Havells Yorker
This fan is somewhat different from the regular design of a 3 blade fan since it comes with a total of 4 blades- that means an extra blade it has sets it apart from the crowd.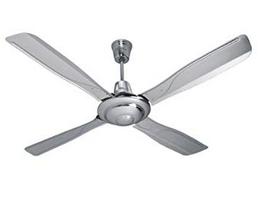 Due to the increased number of the blade, the fan gives out an enhanced amount of airflow. This Yorker one from Havells is the latest model of Havells.
This ceiling fan also has got a range of 3 different colors for you to choose from.
When it comes to the key factors of the ceiling fan, let it be known that it comes with the buzzed electro-phoretic lacquered surface which combats against the rust all the while making it a long-lasting fan.
Moreover, due to this electro-phoretic technology, dust does not stay on the fan which helps to maintain a beautiful look.
SUPERFAN Super X1 Ceiling Fan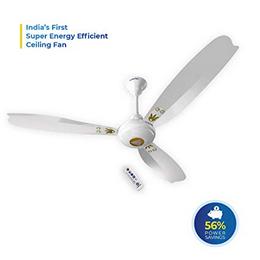 SUPERFAN Super X1 Ceiling Fan comes with a 9-key remote having 6 keys for controlling the speed of this model of Superfan and two keys for fine control of speed.
There is also a pattern key that helps in simulating a natural breeze.
With electrical consumption of only thirty-five Watts, Superfan is named India's most energy-efficient ceiling fan.
Coming with World-class ball bearings, the fan has also got an LED Indication for remote operation.
There are feather touch keys also.
Fans for kids' room
While deciding kids' room fans, simplicity of operating them and tough build are immediate choices. You won't want the fans to be difficult to switch on.
Bajaj Harrier 1200mm Ceiling Fan
Bajaj products are very renowned in the market for their great build quality. After all, Bajaj Ceiling Fans are known to be the best and trusted ceiling fan manufacturers for decades.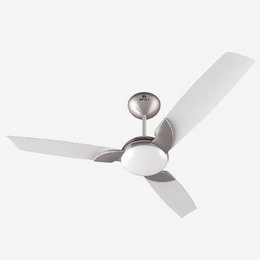 This fan comes with an aerodynamic design which certainly means an excellent performance at low voltage.
A full Aluminium Body with a total of 3 metal Blades.
Its firm motor speed of 380 RPM is the chief property of the fan.
There are 5 Speed Settings, which is as usual.
The power consumption is of 66 Watts.
Crompton Avancer 1200mm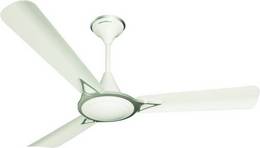 Besides the beautiful looks of the fan, it also has got a great speed of 370RPM with an air delivery rate of 230cmm.
Packed with the double ball bearings, Crompton advancer gives a much smoother performance than its contemporaries put together.
The main features include a 48 inches blade size and a 370 RPM speed motor.
The fan comes with double ball bearings for smooth performance.
The company has given a 2 years warranty on this product.
This Crompton fan comes naturally in the list of most demanded fans always. It has got nice specifications like motor and ball bearings and the design is elegant too. No wonder why interiors would be designed even better with this fan included.
Buyers Guide
There are several types of these fans, and depending on their needs and our priorities plus pre-set demands, they can be divided into further categories. But first, let's dive:
Ceiling Fan Parts To Consider Before Buying
Motor
What is the source of power in the ceiling fan? Yes, it is its motor. Motor is the inevitable part of a fan from where the fan derives all its energy. The efficiency of your ceiling fan is directly proportional to the power and wattage of the motor attached to it. The more the power of the motor the better is the efficiency of your ceiling fan.
The motors of the ceiling fan are very durable and hence long-lasting. There is hardly a case where the motor goes wrong. Mostly the motors last the lifetime of your ceiling fan.
Capacitor
A capacitor is considered the most important part of the ceiling fan since the basic usage of the ceiling fan is to disperse the breeze throughout the room equitably and also in all corners and edges around the room. So basically, a ceiling fan spreads air to all the areas it is in direct control with when it gets installed.
The capacitor's main function is to look after the rotating speed of the ceiling fan. A capacitor looks after its movement also. A capacitor is very prone to damage and repair. In fact, it is the most repaired and replaced part of a fan.
Blades
The net number of blades in your fan also helps to choose the best ceiling fans out of the vast multitude of fans available in the market. A true fact is that a fan's performance isn't based on the number of blades it has. Its number is determined by the total amount and span of the area that it is required to cover. Generally, a fan comes with 2, 3 or 4 blades. In some fans, it is 5 also.
The blades should be so numbered and as such the fan should be so chosen that it neither appears too big nor too small. The number of blades should be just fine. A fan works great when it is chosen well in keeping with the maximum area it has to sweep and it's reaching the maximum movement of the net airflow.
The Summer And Winter Fans
Many people must be having a hard time believing that there exists something like different fans for different seasons, or say summers and winters. But we kid you not!
Definitely they do exist and serve their purposes extremely opposed to each other. But that is just because, we demand the summer fans to be cooling well through the circulation of air, while we need a fan also for warm airflow and the winter fans do just that.
Summer Fans
Well, who does not want to beat that summer heat? A gentle breeze over the sweaty you, and you tucking your face out so to grab every minute essence of the gentle and calm air!. Or a stormy high-speed fan for those times when you get extra needy!. That is what fans are made for. And the summer fans do just the same.
They help you bear the extreme weather. They rotate in a counter-clockwise direction which basically drives the cool air upwards. The already existent warm air is displaced by the cool air. The room air is forced down upon us and we get the windy feel. Thus we get cool air everywhere.
Winter Fans
Winter fans run the total opposite to summer fans. They rotate in a clockwise direction. These fans operate slow and bring the room air up towards your ceiling and send the warm upward air down towards the ground. This is done to avoid the windy effect. So you do not feel cold or shivery and the warmth is maintained.
This shows that the direction and speed of flow determine which fan is suited for a season!
Automatic and Manual fans
Manual fans
Manual fans are those fans which we've been seeing since time immemorial. They are the ones that come with a regulator that has 4 or 5 power settings and we get to control the speed of the fan by turning the regulator knob.
These are hassle-free and less technology-dependent, which means there are lesser chances of it having any operational failure. They are very durable and require lesser maintenance.
Automatic fans
Nowadays fans come packed with remote sensing features. They have a remote and you can turn them on. You do not need to go to the switchboard to switch fans on. They are very convenient. There are pattern keys for remote operation and LED lights attached to them. You get a smart remote.
There are also fans that are temperature controlled. What it means that they would be ON automatically when they sense a hot temperature. Such fans use microcontroller and temperature sensors.
DRAWBACKS OF AUTOMATION
While automatic fans come with a lot of thought, they are on the pricier side. So considering that fans are considered to be an inexpensive investment, you may not want them to be that costly.
Also, being heavily dependent on sensors and technology-reliant, they need much more maintenance than manual fans.
Concludary Facts
1. More comfort: Airy and windy interiors are overall the best suited for any room and throughout the workplace and your home. A fan adds to the overall comfort of the place in no time.
2. Less cooling and heating bill: This is a major benefit. In places that do not get much heated up, one can always have just a fan and the ceiling fan would suffice. In relatively hot places and humid areas, a ceiling fan along with an air conditioner works great. This cuts up on the electricity bill too.
3. Add a decorating look: The ceiling fan sets a nice frame to the interiors of the home. Beautifully designed and embellished fans look awesome on our ceilings. Some fans have lights attached in the middle. The look is great then.