Haier Corporation is a Japanese multinational company that deals in electronic home appliances with its headquarters located in the city of Qingdao, China. They develop and manufacture various daily use appliances that include refrigerators, air conditioners, washing machines, computers, and an unending list of other products.
Haier does a lot of up-gradation of its products so that they could meet up the growing market and new requirements of their users. The range of refrigerators has a lot of different technologies and features packed in them but with one motive, to provide the best service. The refrigerators are upgraded and come in various variants.
If you have just renovated your house and are planning to upgrade your current refrigerator, read the complete article to get a glimpse of what Haier has in store for you. We are going to discuss the functionality of the range of Refrigerators they provide to their consumers and what type of technology is adopted to implement an efficient user experience.
Single-Door Refrigerator
This is the most basic refrigerator that has a single door leading to both Fridge and the Freezer. The capacity can opt between 50-250 liters. If you are living in a small family of 1-3 members, this is the most suitable option you would get from Haier. Although the freezer size might not be compatible with bulky items, the power consumption won't make your pockets light. It has a small surface area thus can fit even in small kitchens. The cooling technology that Haier uses in this piece comprises of Direct Cooling facility with natural convection, simple yet effective.
The only drawback of this technology is that the cooling within the fridge is not evenly distributed. Thus, the ice gets accumulated near the freezer box and you must manually push the defrost button to keep it working normally. Clean the appliance easily on a regular basis to maintain hygiene. Due to the smaller size of the refrigerator, it can't store large bottles or beverages as the shelves are smaller in size and don't have much space in between them. But the vegetable storage is enough to keep your veggies fresh and maintain their natural taste and texture. Taking about the budget, it can easily find its place in your wishlist as with an economical price of Rs. 6,000-20,000 depending upon your variant.
This refrigerator would be most suitable for your small kitchen. It is very much cost-effective. If you are a tenant, this refrigerator can be easily shifted from one place to another. It might not be the first choice for an automated kitchen, but like any other refrigerator, it serves the purpose- Cooling!
Double Door Refrigerator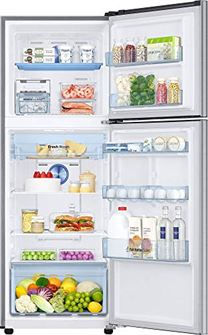 As the name suggests, this refrigerator has a double door option ie. separate door for the freezer compartment. These can hold a capacity of about 250-300 liters of your daily food items and other beverages. It provides sufficient service to a medium-large family of 3-5 members. As the size of this refrigerator is slightly more magnanimous, the electricity consumption will definitely increase in order to get all the functions working properly. There is a separate door for the freezer. Thus, you can now store more food items into it due to the bigger volume provided. You won't find any difficulties in chilling large beverages and even it has the facility of adjustable shelves.
It might cover more floor area in your kitchen but, will definitely save your cleaning time as it comes with the feature of Auto-cleaning. The cooling technology that Haier used in it is Frost Free, with additional electric fans. This technology is much better than the conventional Direct Cooling feature. Now, the cold air can be easily regulated within the chamber by electric fans and the need to defrost gets eliminated. No doubt, with these many features it will be a bit expensive, but within the budget of Rs20,000-50,000, it will be worth buying. You also get a 10-year warranty period against any type of internal damages.
It is the most utilized appliance in home kitchens. Thus, if you are planning to buy a refrigerator for your new kitchen, it will be the best choice you could have ever asked for. Also, don't forget about its economical electricity consumption.
Side-by-Side Refrigerator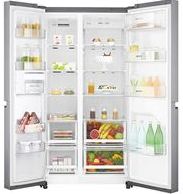 It is an advanced version of the double-door refrigerators. The doors are aligned vertically parallel to each other, just like the almirah in your room. It opens sidewise and provideS a much better experience with the burst of features in them. The capacity for this refrigerator can vary from 400-700 liters with ease. So, if you are living in a large family of at least 6 members, it can easily serve your purpose. It is supported by a twin inverter compressor that saves energy bills to a great extent.
The refrigerator is equipped with 4 toughened glass shelves and 3 big door bins. You can throw a party without getting worried about the space to store your food. Separate storage for fruits and vegetables is provided to keep them fresh and crisp for several days. The vast freezing space helps you freely store frozen foods.
On top of it, you enjoy a 10-year warranty on both the compressor and the fan motor. The sleek design helps it to fir into any modular kitchen with more efficiency. The ambient temperature can be maintained with an automated digital panel. It allows choosing over various functions within the refrigerator without actually opening it.
The perfect placement of the LED lights ensures that no food is left unseen and thus avoids it from getting wasted. The specially designed centrifugal fan works at a maximum noise of 38 decibels, unlike many other refrigerators that have a noise of about 45 decibels. It can be quite expensive as its a full package of every adroitness. If you are planning to buy it, keep ready a cheque of Rs. 1,20,000 as this is something that would increase the grace of your kitchen and provide every comfort.
If you are looking for an advanced refrigerator in the mediocre range, I don't think you need to look any further. It has some of the best ratings on any criteria you want to compare. The panel color and design could also be chosen to match the style of your kitchen.
Bottom Mounted Refrigerator

In most of the refrigerators, the freezer box is provided in the uppermost region of your appliance. But according to many, that's not the right way of cooling your items below freezing point. This series of Refrigerators resolve this problem by creating a room for your freezer at the bottom. Some of them even have double freezers which increase the volume you could store in them. Now, having a gross volume of about 400-700 liters, it requires a bigger section in your kitchen to be placed upon. They are not much energy efficient as most of them do not include BEE Star Ratings.
These refrigerators are fit for a large family with 6-8 members. The elderly members now won't have to bend to take out food from the refrigerator, thanks to its brilliant ergonomics. The shelves are perfectly aligned and spacious enough so that all the items can be arranged in a systematic manner. You must be thinking that how in this world you are going to clean it. Well, let your refrigerator do it itself. The inbuilt Auto-Clean feature will do all the job including a regular check over the hygiene.
The company gives a better Frost Free Cooling technology for this appliance as the volume that needs to be cooled is much bigger now. The freezer comes with a 1-hour icing technology. It means that your ice is gonna be ready in just 60 minutes. If we look at some higher models of this type, they even provide an extra automated system for dispensing cold water.
Talking about the price range for this product, its gonna be a long discussion before you pay Rs.70,000-2,50,000 for this beast. The price may vary as per your desired facilities equipped.
If there are elders in your family who have knee problems or due to some other illness they can't bend much, I would recommend you buying this refrigerator. The 360 degrees cooling with Auto-Frost feature makes it very efficient. Moreover, it can easily fetch the needs of a Joint Family.
French Door Refrigerator
This is the most advanced refrigerator you could ever ask for. The overview of this refrigerator is like a side-by-side type refrigerator but it has an extra freezer compartment. This style is far better than a side-by-side. You will be eye level with most of the shelves and reach out for the food comfortably. Accessing the fridge will be much easier and it will be full width, unlike its predecessor.
It comes with a Triple Cooling provision which means, there are three separate fans for each compartment. It keeps the food fresh for a longer period of time and prevents the mixing of smell. The Dual Zone within the main compartment makes ensure that your food maintains its texture. Humid Zone keeps the vegetables fresh and the Dry Zone keeps dry food items crispy.
It has 118 liters of convertible storage, which means you can convert that area into a fridge or a freezer as per the situation. The freezer can cool up to -24 degrees and has smooth sliding bins to carry your favorite ice creams. My favorite feature of this refrigerator is that it uses eco-friendly refrigerant. So your refrigerator won't contribute towards Ozone Layer Depletion. BEE gives this appliance a 4-star status, something remarkable for a refrigerator of this size and these many features.
The 9 sensors present inside the refrigerator keeps a regular check over the temperature and can save up to 12% of energy consumption. The compressor of the refrigerator works at variable speed powered by DC supply. This consumes less energy and increases durability. Although the freezer is also full width with a more accessible pull out drawer, it is the compromise of a French door refrigerator. Frozen foods have to be stacked on top of each other unlike the more arranged side-by-side.
You might be thinking that with these immense features, it might be costly. You are absolutely right! The price tag of this gigantic appliance can reach up to Rs.2,00,000.
If there is no issue of budget, then this refrigerator is the best appliance you could install in your kitchen. With all the modern-day refrigeration techniques and facilities, this can do every task that a normal refrigerator couldn't even think about.
Conclusion
Haier truly understands the common dialogue of every Indian customer, "Aur dikhao!" ( Show More!). Thus, try to find out your needs and then look for the type of refrigerator that fulfills them. Otherwise, you'll confuse yourself with such a huge variety of refrigerators and to decide which one to buy. I hope it will help you to make the decision-making process more accurate and precise.
Do consider what purpose do they actually serve and how much economical they will be to your budget. If neglected, this might be a disadvantage for you. Always look for the BEE rating on the panel. This gives you information about how it will affect your monthly electricity bill. I would prefer you to pick a 5 star rated appliance and it will be beneficial in the long run.