The solar panel as you all must be aware of is a renewable source of energy. The solar panels are installed on the roof and directly consume the sunlight and then convert it into electricity. This renewable source of energy is the best thing that has happened to humans. We are constantly using and exploiting the energy resources but what will our future generations do? If the human race wants to survive on the Earth then all the people have to work together to save it.
The question that arises here is how to install solar panels, which companies are manufacturing solar panels, which area is suitable and what is the cost? In this article, we will be discussing all the solar panels and will be answering your questions one by one. Let's begin.
The first thing to acknowledge is how much a solar panel produces electricity.
Production of Electricity
The production of electricity in solar panels depends upon the size of the panel and the sunlight it procures. A solar panel during the day if consumes a good amount of sunlight then can produce up to 30 kWh. Earlier, the solar panels used to produce less energy but with increased technology, the same panels can be used to produce more energy up to 320 watts. The cells of the solar panels are improved, they are the main part where all the sunlight gets absorbed and the wires interconnected are used to transfer the energy stored in the batteries.
Where to Install the Solar Panels
Another thing is where to install the panels in the home. Installing on the roof is, of course, a widely used method but you can also place the panels in your garden too. They require more space, so it should be placed where more space is available. The solar panels should be placed facing the south because India is located in the northern hemisphere and if faced south it receives the most sunlight.
The next thing to discuss is the types of solar panel systems available.
Types of Solar Panel system available
There are 3 types of solar panel systems available. Which kind of solar panel to install is your choice?
Off-grid solar panels: This one is the most popular kind of solar panel. It is more suitable for areas with no electricity. It only consumes and depends on the sunlight. No other electricity is used in this. The solar panels consume the sunlight during the day and it is stored in the battery for use.
Grid-Interactive: The grid-interactive solar panels are different from off-grid as they generate sunlight during the day and at night or when the power is out, it uses the stored energy in the inverter and supplies it to the electricity sockets.
Grid-tied: This one is more suitable if you want to save the environment and want to save your electricity consumption too. The grid-tied solar panels are connected to your home sockets, they consume the sunlight during the day and when the weather is cloudy or rainy, you can use the direct electricity that is provided. So, with this system, you can save your money and environment both.
Moving on, we will discuss the types of solar panels and their features.
Types of Solar Panel
There are 3 kinds of solar panels listed below, you can choose which is more suitable for your home.
Monocrystalline solar panels: This kind of solar panels are more efficient. All the solar panel cells are made up of silicon but in this, the silicon is placed one upon the other, making more spaces for silicon. The only disadvantage of monocrystalline solar panels is that it is more expensive than the polycrystalline solar panels.
Polycrystalline solar panels: Polycrystalline solar panels are made up of thousands of silicon melted together. If compared they are less efficient but the main advantage is that they are less expensive as compared to the monocrystalline solar panels. The other difference between the two is that this one is blue-ish in color while the former is black.
Thin-film solar panels: They are new in the field but are more economical as compared to others. They are made from various elements like silicon, cadmium telluride and copper indium gallium diselenide. The one disadvantage of thin-film solar panels is that it requires a lot of space.
These were the types of solar panels with their features so now, it depends upon you which one you prefer.
Finally, we have selected some of the best companies manufacturing solar panels in India.
Top 3 Solar Panel Manufacturing Companies
Vikram Solar Panels
This company is the biggest in India producing solar panels. Founded in 2006, they have created a name in the country and the world for their efficiency. They provide the best quality solar panels for your home too. Homes need solar panels if you want savings.
This is indeed the best way to save. You can choose a plan according to your budget and get the solar panels installed at your rooftop. This installation is profitable for you.
So, you just need to contact the Vikram solar panels and get the best and most efficient deals around you either for your home or office. The product price varies according to the solar panel type and size. The product price will also depend on the watts per hour.
Somera Grand Plus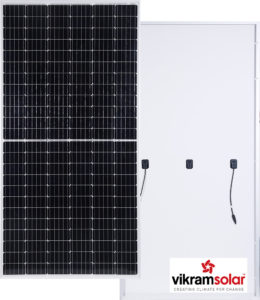 This one is one of the best products from Vikramsolar. This is manufactured with the highest precision, based on the latest half-cell technology. It increases the output up to 15 Wp and has an efficiency of up to 19.56% (for 385Wp). The module has 144 half-cut cells. Available in black color. The length, width, and height are 1986*991*36 mm respectively.
Vikram Solar Module – 320 Wp
This is another one of the best products from Vikram Solar Panels that you can surely trust. This is a certified product in terms of salt mist corrosion resistance. As its name suggests, It has 320 wp. It also has 72 polycrystalline cells of 4bb and AAA grade. With all of these great features, this product is a must-buy in case if you want to choose one of the best. The product will cost you Rs 10,000 only. Shipping charges excluded.
Tata Power Solar
Tata is indeed one of the most famous and trusted names in India. They have a strong presence in the technological market here. Many appliances and electrical devices are made by them.
Tata has emerged as a company that is always famous for maintenance of its quality in all of its products so, one can choose and trust them easily for reliability and innovation. This company provides you the solar panels for the different sizes according to your choices.
Here are two suggestions that you can opt for.
Tata Solar panel (pack of 2)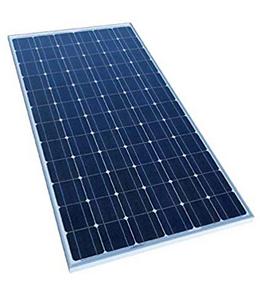 Look for this product at Amazon. It has a higher impact resistance. Polycrystalline technology. The product is made up of highly efficient solar cells. With all of these features, you can buy this product at the price of only Rs 25,999. Also, it comes in a pack of 2. You do not have to worry about shipping charges as it is free. Go for it for no regrets in the future.
Tata Solar panel (pack of 5)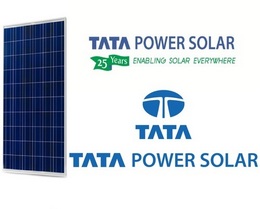 This is a product from the tata group and easily available at Amazon. The model comes in a pack of 5 so, you can install it where the rooftop range is quite wide and large. Energy saving is never a bad idea, especially when it goes with your budget plans too. The color is blue. The price of the products is Rs 74,000 only.
Loom Solar
Another big name in this field is the loom solar. Loom solar is one such big company that is arising day by day because of its promising products and the best of the deals.
The range of solar panels that they are offering is wide and interesting. The company was started in the year of 2018 but still manage to be in the market with high competition. They offer you the product in all over India.
Let's take a look over a few of their products.
Loom solar Monocrystalline solar panel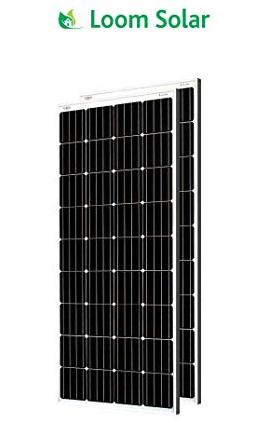 This solar panel of 180 watts is made up of A-grade black silicon cells. The cells are of superb quality and give higher efficiency up to 20% and work even in low sunlight. The loom solar panels are made up of the latest technology that comes with 5 busbars and 36 cells. A 25-year warranty is also provided and is only Rs. 8,500. The space requirement is only 10 sq. feet. The operating voltage is 12 volts. This is one of the best products available.
Loom solar Polycrystalline solar panel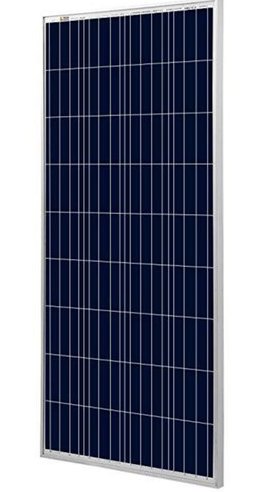 The loom solar polycrystalline panel is a pack of 2 from Amazon and its voltage is 12 volts only. The solar panel is 160 watts. It can withstand high winds and snow loads, which means no need to take tension of maintenance. It also has a resistant aluminum frame which allows the panel to last for decades. The best feature of this solar panel is that it is compatible with on-grid and off-grid inverters. This pack of 2 comes with only Rs. 12,000 and the warranty provided is for 25 years. It comes with 5 busbars and 36 cells. The cell conversion efficiency is up to 16%.
Are Solar Panels Advantageous?
Environment-friendly. The solar panels are extremely beneficial for the environment. The exploitation of energy that is happening on a large-scale now will be reduced.
Cost-efficient. Installing and having solar panels will save your money big time. With this, we can get rid of the heavy bills that come into our home every month depressing us.
Dependence on fossil fuels will be reduced. The solar panels reduce the dependence on fossil fuels that we have to import from foreign nations.
Favorable for the economy. If we install solar panels at our homes or at our workplace than the country need not be dependant on fossil fuels and the economy will flourish.
Subsidies are available. The government helps in a lot of terms when you are installing solar panels. Subsidies are provided to encourage citizens.
Conclusion
The solar panel has come out as a beneficial source that we can use and contribute our little bit to the environment. Now, as you have seen that solar panels are used widely in India from E-rickshaws to Universities to Railway stations, the solar panels are being installed everywhere.
India is already battling the issue of exploitation of energy resources, we do not want to contribute to this so, for the environment installing the solar panels is a good initiative.
In India, through geographical measures, we receive plenty of sunlight especially during summers so it is a good decision to install solar panels at homes.
Electricity is a major issue all over the world, especially in a country like India where it cost you a lot. So, installing a solar panel, in our offices, colleges and homes is not a bad idea.
It is a nature-friendly way of producing electricity. No emission of greenhouse gases occurs when we install solar panels which is why it is also considered as the clean source.
When you are using solar energy, you do not have to depend upon the government for electricity. Nothing is greater than producing your energy and using it in your ways. Nature is so giving and we are harming it. This is the time when we should take care of it a little and this is the best way.
There is a myth related to solar panels that it won't produce electricity on cloudy days. Indeed, it is a myth. It indeed produces a much lesser amount of electricity as compared to sunny days but it won't give you anything is surely wrong.