Technology is booming at a very fast rate, which is evident by how we used to watch TV. From those black and white movies to 4k HDR movies, a lot has been changed. Thanks to the Color profile of the TV screen, we can see much brighter, sharper and saturated images. But you must be thinking about how technology plays a role here. Because whenever we hear the word 'Technology', the first thing that comes in our mind is software and hardware. We never even imagine colors but guess what technology way of what is beyond we think of.
Talking about colored will first understand what a color gamete or color space is. It is nothing but just how a device displays colors on to the screen. It consists of three main Colors RGB (Red, Green, Blue) which leads to making other colors such as yellow and green. Many Color gamuts have been developed over the years to make the user experience much more aesthetic.
What Is Wide Color Gamut?
As the name suggests, a wide range of colors is displayed onto the screen. It can be A computer Monitor. A TV screen or a smartphone screen. gamut has many more colors than sRGB.
It was proposed by Adobe Systems, Inc. in 1998.
This type of technology is much better than other gametes such as sRGB, cause the colors captured by sRGB is less and doesn't look real to eyes.
The yellow line is for wide color gamut and the white line represents sRGB.it clearly shows the wide color gamut encompasses a larger field of green to red.
It provides a larger spectrum of colors for the developer to work on, which makes it quite useful. The value range for this [0,1]. Values are variables that adjust the brightness and darkness of the image. The encoding of this technology will be only done by Adobe RGB (1998) ICC profile.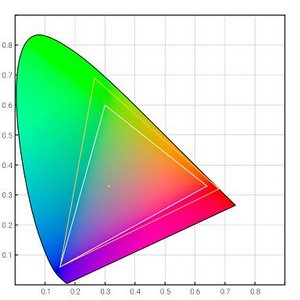 Impacts of WCG on the Image
WCG (Wide color gamut) impacts an image to its full extent. Here the image below shows the difference between sRGB and WCG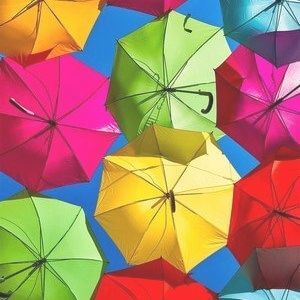 sRGB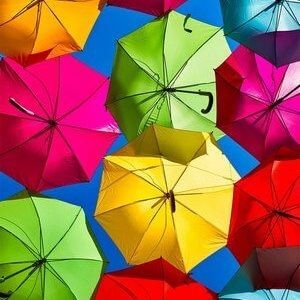 WCG
You might feel that it looks familiar but if you check the values of these images you will found out that the left one is more saturated and even small details can be seen clearly.
People nowadays assume that HDR is similar to WCG, but that's a piece of false information. HDR increases the brightness of the image whereas WCG makes increases the color (red becomes much redder, green becomes greener).
Not only this but it also makes the image's overall clarity in terms of both focus and contrast. When the image becomes sharper(as the name suggests it means that making image much more focusable and increasing the contrast of the image to make it much more visible) and much more life-alike.
It produces more than 800 nits(it's a measurement unit for the brightness of the screen) that could be seen in OLED screens, because of which colors look more colorable and yet satisfies our eyes with the fulfillment of satisfaction.
Developers try their very best to make the image or video life-alike which helps them to captures the user's mind to fully extend.
Usefulness Of Wide Color Gamut
This technology increases the aesthetic looks of the image which leads to increases in the user experience towards the image. Artists and Developers have been working to provide the best to the customer and clients up to their game like anything. With this piece of technology, a new sphere for artist and developers has been open up, exporting the image in WCG format can make artist to edit their image up to their creativity, no restrictions by so far.
Everything has two sides to it. One is good and the other is bad. Similarly, it has some advantages and disadvantages to it.
Advantages
It has a wider color space that displays images with much more depth; such as main colors (reds, greens, and blues) as well as the other colors (such as magentas, cyan, and yellows).
It has an increased number of bit depth (information of color stored in an image) which leads to more shades of color such as Green can have -Light Green, Dark Green and many more shades of it.
Fact – A HDR TV can have 16.7 Million colors, while a WCG screen can have 1 BILLION colors!!!.
Pro Tip: For using wide color gamut you need a high hardware processor to process the images. If you are starting out, buy from brands offering the technology after comparing two or three.
Is It Worthy?
Now you must be thinking whether the WCG technology is really worth to go for or not.
For the buyer or audience, I recommend the combination WCG and HDR to make your vision go wow. This means, check the features of the TV you are buying and ensure that both of these are present. Some manufacturers have HDR 10 or HDR 10+ with WCG and that is what I call the super combo.
For a developer, Adobe RGB should be used by a person who is well familiar with the color gradation and is well versed in how colors impact a photo. The reason for it is that using Wide Color Gamut is not a cup of tea. A developer needs to know the depth of color profiles, having a half-knowledge over it can ruin your project and your career too.
Also an another problem occur if you are a developer the video or the image you used with wide color gamut will all be different when you post it onto the web due to the banding problem(color banding is error or problem when colors could not be shown properly and a blurry kind of texture is formed, due to poor color gradient or any other factor).
This helps sRGB to be first in the race as less color banding happens in the image or even video.
sRGB is also primarily used in photography due to its consistent colors.
In short, everything has it's own advantages and disadvantages, so it depends on you what to choose.
Pro Tip: Experiment with both the gamuts and experience which one is better, cause every gamut fits for a different occasion.
Experiencing Wide Color Gamut
If you are excited about this technology and want to experience it firsthand, you can choose some of the TV brands which offer Wide Color Gamut technology to their screens.
You can use OLED TV screens by LG and SAMSUNG. OLED( Organic Light Emitting Diode) in which there's no such thing as a backlight under the phone, TV or monitor screen to fire up the pixels, instead current passes through conductors, and metal sheets to emit light.
The OLED screen has, of course, a wide color gamut but they have much contrast to colors than the traditional screens such as LCD and LED. They provide one of the finest watching experiences for watching and have a crisp, yet subtle color. They are at a price range, but I assure you they will be worth your money.
But if you are one of -saving money people, you can always opt for mid-range TVs( from 300$ to 500$ which is like 25000INR to 70000INR). Nowadays Smart TVs are a new trend in the market. They offer up video streaming services such as – NETFLIX, Amazon Prime and Hotstar. Gone are the days when we all used to wait for Sunday to watch the movie on the Doordarshan Tv. Now you can just hop on the bed and watch any of your web-series, TV shows, and even podcasts.
New technologies such as Google chrome stick or amazon fire stick can make a NON-traditional TV into a smart Tv. Just install their Pendrive to the Tv port and Voila A smart Tv has been ready.
Conclusion
As We have come to the end of the article, I hope you have the information you need on Wide Color gamut, plus do remember to read much more about it on the Adobe official website if you want to go in much more depth about it.
I hope you like this article and if you have any questions do leave a comment.